As an opening, allow this native Klaten girl to introduce herself, just like a proverb says, 'if you don't know him/her, you wouldn't love him/her.' My name is Irma from Generation 9. Every human being have a different story, a story that implies life learning is more important than a stack of checked exam papers. And here is my story…
January 2016
The first time I heard of 'Titian Foundation' was when I was in junior high school as a final semester student right before continuing my education to the next level. 'Titian Foundation' was a phrase that felt foreign to my ears and my friends at that time. Luckily, my teacher was able to provide an explanation and description of Titian Foundation. A teacher led me to visit a building not far from my school. The first impression was when I met the figures who were Titian's staff. They were very friendly and welcoming. I was free to ask about how to get a Titian scholarship comfortably without any hesitation. After a week, I managed to collect all the requirements needed to apply for the scholarship, then Titian's staff took my file at the school.
I passed one step after another in selecting the other scholarships well, only the last stage was the announcement of students who passed and were entitled to a scholarship. Scholarship registration and selection goes hand in hand with school selection. I enrolled in my dream school which was SMKN 1 Klaten. I was aiming for Accounting major and as a backup I majored in Office Administration. In May, all prospective students of SMKN 1 Klaten were asked to attend school with their guardians to take the announcement of new student admissions. My heart was pounding as I held the white envelope with a sheet of paper in it. I closed my eyes beside him and prayed, "Sir?" I looked at him doubtfully. Father smiled and gently stroked my head, "Bismillah, it will pass." I slowly opened the envelope and immediately focused on the words written in large letters. ACCEPTED. I spontaneously hugged him, and he kissed my head proudly.
I was waiting for the scholarship announcement. I had high hopes for the scholarship, because even though I passed SMKN 1 Klaten, if I didn't pass the scholarship, I would not be able to continue my studies there. Because that's my promise I keep to myself. And I will accept to study anywhere without arguing. The announcement of the Titian Foundation scholarship acceptance was one day after the announcement of SMKN Klaten. I walked here and there looking for internet connection so I could see the announcement, I climbed up the mango tree that was not too high beside my house, the connection was pretty good. After I managed to open the announcement page, I immediately searched for my name. And God answered my prayer: my name was there. I jumped from the tree and shouted to my parents. I was so happy.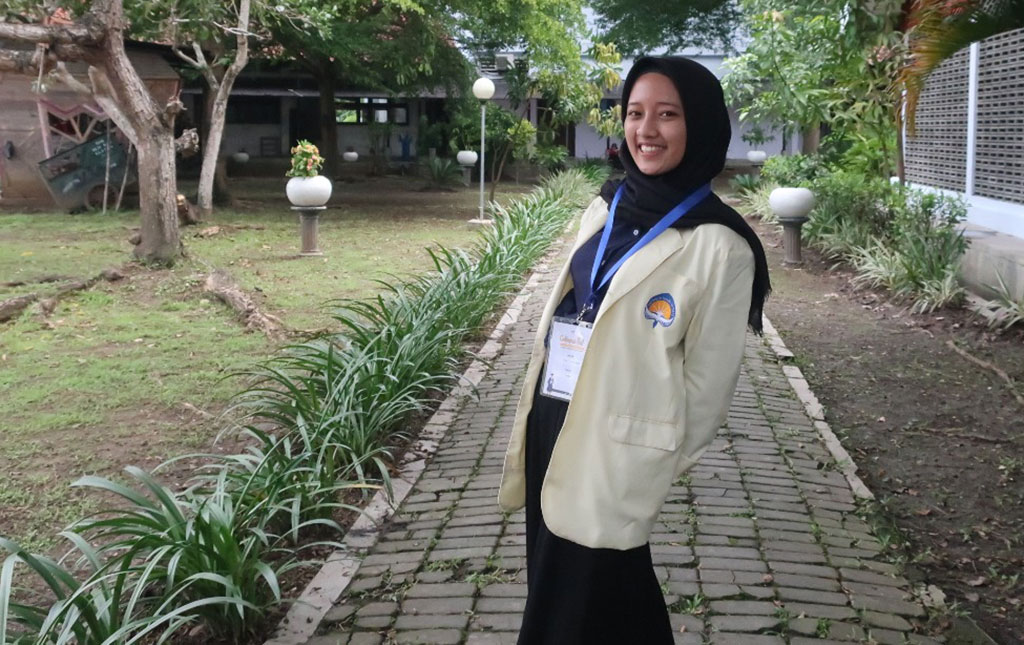 July 2019
Unknowingly, I made it through three years with white and gray (note: 'white and gray' is a metaphor inspired by Indonesian high school uniform color). A lot has changed in me and I can feel it. I got what my friends didn't get in school. During my time as a scholarship recipient, I was required to participate in many activities and obey all the rules made by Titian. I was trained to work in a team, I always take on the role of chairman and MC in Sunday Gathering committees, social projects, and other activities. My habit of taking on the role of chairman and MC has actually increased my confidence, so that when I was at school I dared to take on the role of representing the school in poetry, theater, speech, and other competitions at the district and provincial levels. I was taught priorities, time management, assertiveness, and more by Titian. This makes me more sensitive towards the environment, more disciplined, adaptable, and purposeful.
Year 2020
After my struggle to get a university in 2019 did not pay off, I migrated to Bekasi until the end of 2019 to find a job, but it did not reap any results. I'm extremely sad, fortunately when I was an active scholarship student I was provided with knowledge about the ins and outs of stress and to how to deal with it. When I decided to go home without success, I didn't give up, I applied for a job in several companies in Klaten. Alhamdulillah, I was accepted in a quite big company as accounting staff.
In this year I tried to register for college again after I was declared to get rejected again by my dream university. I fell into the arms of Atmajaya University Yogyakarta, the Development Economics study program and then I resigned from my job.
Ever since I started working, I was determined not to bother my parents, even when I was in college. I went to college and get a KIP Tuition scholarship from the government, but what about my living expenses? Even though the lectures were conducted online during the pandemic, I still needed money to make ends meet. Exactly in November 2021, my savings was only Rp 50,000.00. I started to think hard, while the busyness of online lectures and activities as an administrator of the IKATIFO PSDM division did not allow me to take part time work. An idea came up for entrepreneurship, remembering back in school, there was an entrepreneurial task to make banana chips with flavor innovations and my group made two variants. One of the variants is chocolate and it tastes really good. In the end, I tried to make banana chips with simple packaging, and my best friend helped me make stickers as labels for my products. So it's done, Banana Crackers, thank God this Banana Crackers got a good response from the community, so they can become my backbone and add activities between lectures and organizations.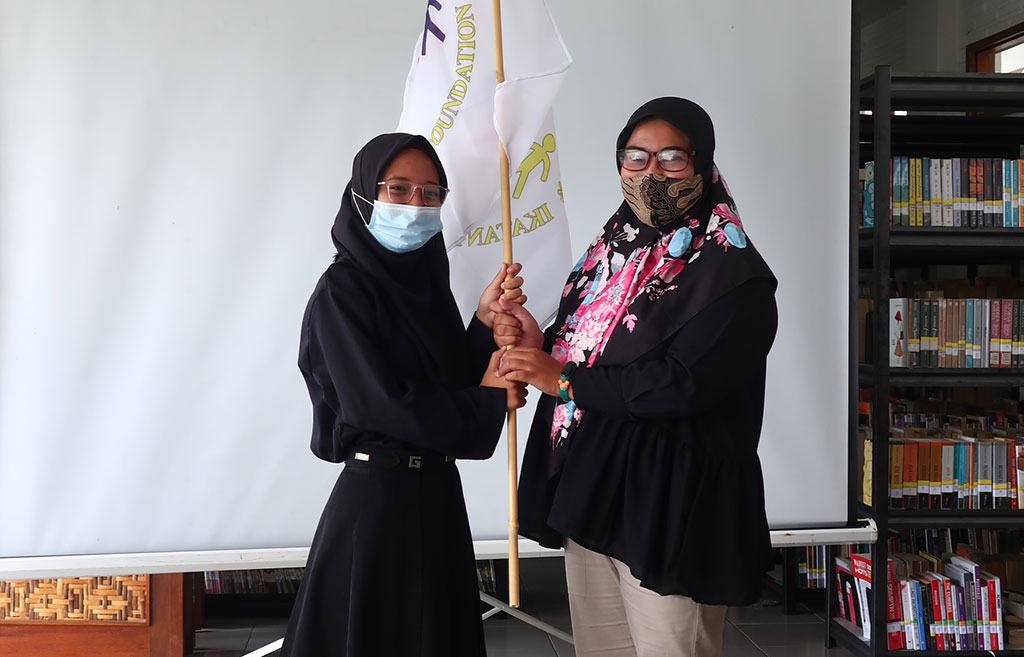 Year 2021
This year I turned 20 years old. The year in which I got a lot of trust given to me. I was elected as Chairman of IKATIFO for the 2021/2022 period and Chairman II of Muda-mudi (youngsters) in the village. This is where I find all of Titian's mentoring very useful. I always make a priority scale that I list per week according to the agenda. I do good time management so it's more efficient and I know what to do when I'm under a lot of pressure.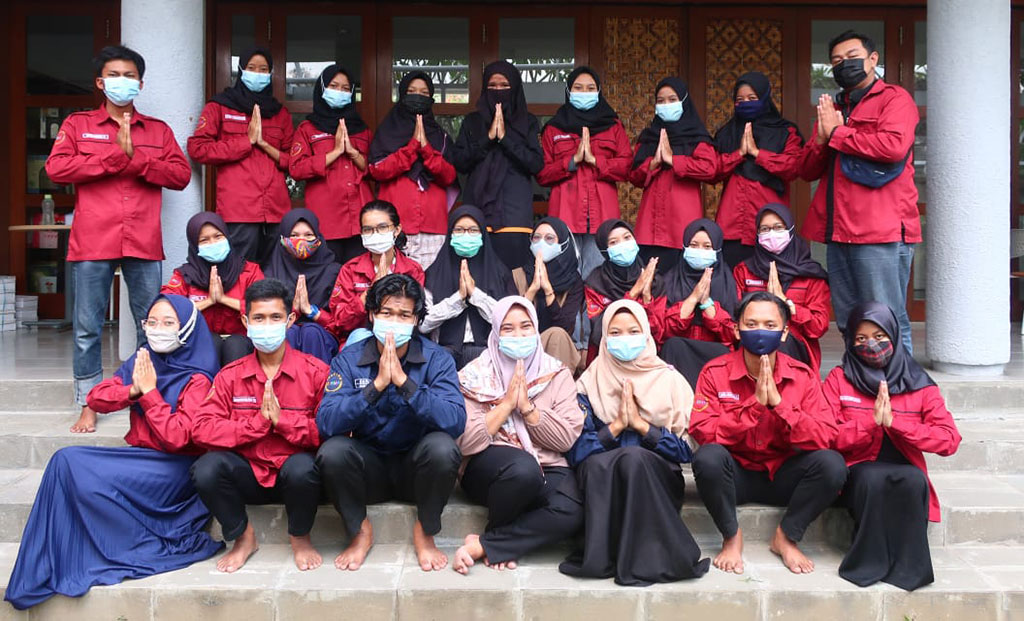 Thank you Titian Foundation for the help, guidance, and knowledge you have given to many children who have big dreams but are hindered by economic problems. I was greatly helped as well as my friends. Thank you Donor, the angel who built the bridge to my dream.
I think that's enough of my story. Because if I describe it in more detail it will be very long. May you and I always be eased in achieving the vision and mission of life.
I have a quote that always strengthens me when I'm down, "What is destined for you will be not passing you nor vice versa; what is not meant for you no matter how hard you try will not be yours."
Cheers, guys!
(Irma Fatmawati)